The only thing better than a new board game is two new board games!  Auction Adventure, our latest game is exactly that.
Auction Adventure is comprised of two stand alone and interconnected board games:  Auction Haul & Bizarre Bazaar.  Both games can be played individually, or there is the option to connect the two games!  Players would first enter the Bizarre Bazaar in search of items to sell at the local Auction Haul, and then attend the auction to bid for what was found.  So whatever transpires in the Bizarre Bazaar directly affects the items for sale at the Auction Haul.
Read more about: Auction Haul
Read more about: Bizarre Bazaar
BIZARRE BAZAAR
Play for FREE on Tabletop Simulator:
Shopping Crawl – Explore the Bazaar and encounter shops filled with wonderous items
RPG elements – Use pre-rolled adventurers or create your own who gain experience
Barter, Trade, & Search for items.  Or maybe Stealing would be easier.
24 Shops – A maze of corridors and doors leads to stalls with treasures from exotic lands
64 Merchants – Which 24 merchants will be in shops today?  Each merchant has skills to foil and help adventurers
48 Items –  Jewelry, Armor, Weapons, & Trinkets from near and far line the shelves.  Some magical, some not.
Hidden items and secret doors.  The adventurer with a good eye will have an advantage.
2 – 8 Players
Game time – 15-20 min per adventurer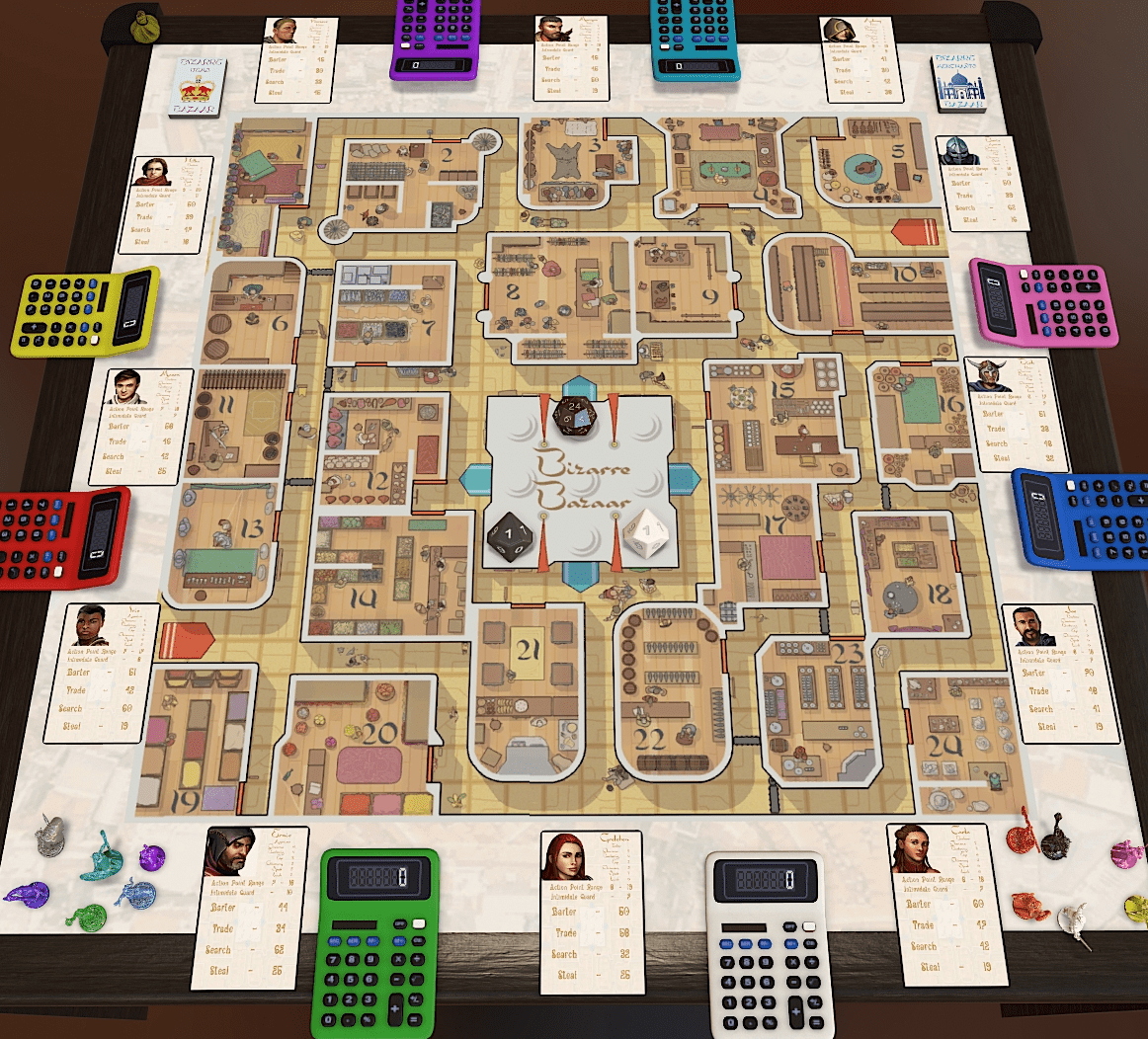 AUCTION HAUL
Play for FREE on Tabletop Simulator:
Auction Game – Bid for items while attempting to influence the markets with rumors and facts
Influence the markets by spreading information about which merchants will or will not attend the Grand Auction
64 Merchant Cards – Each has a unique influence on the markets
8 Rumor  Cards – Change facts into fibs, and falsehoods into facts.
8 Validation Cards – Double down on a fact or a rumor and double the influence the fact or rumor has.
Linear & Inverse Markets – Some go up and down on their own, others directly influence another market.
Bid, Raise, Pass & Drop Out of auctions.
Every item, fact & rumor influences the markets.  Manipulate them to your advantage.
Short, Medium, & Long Auction options to fit the time available to play
3 – 12 Players
60 – 180 minutes depending on the amount of items in the auction and attendees.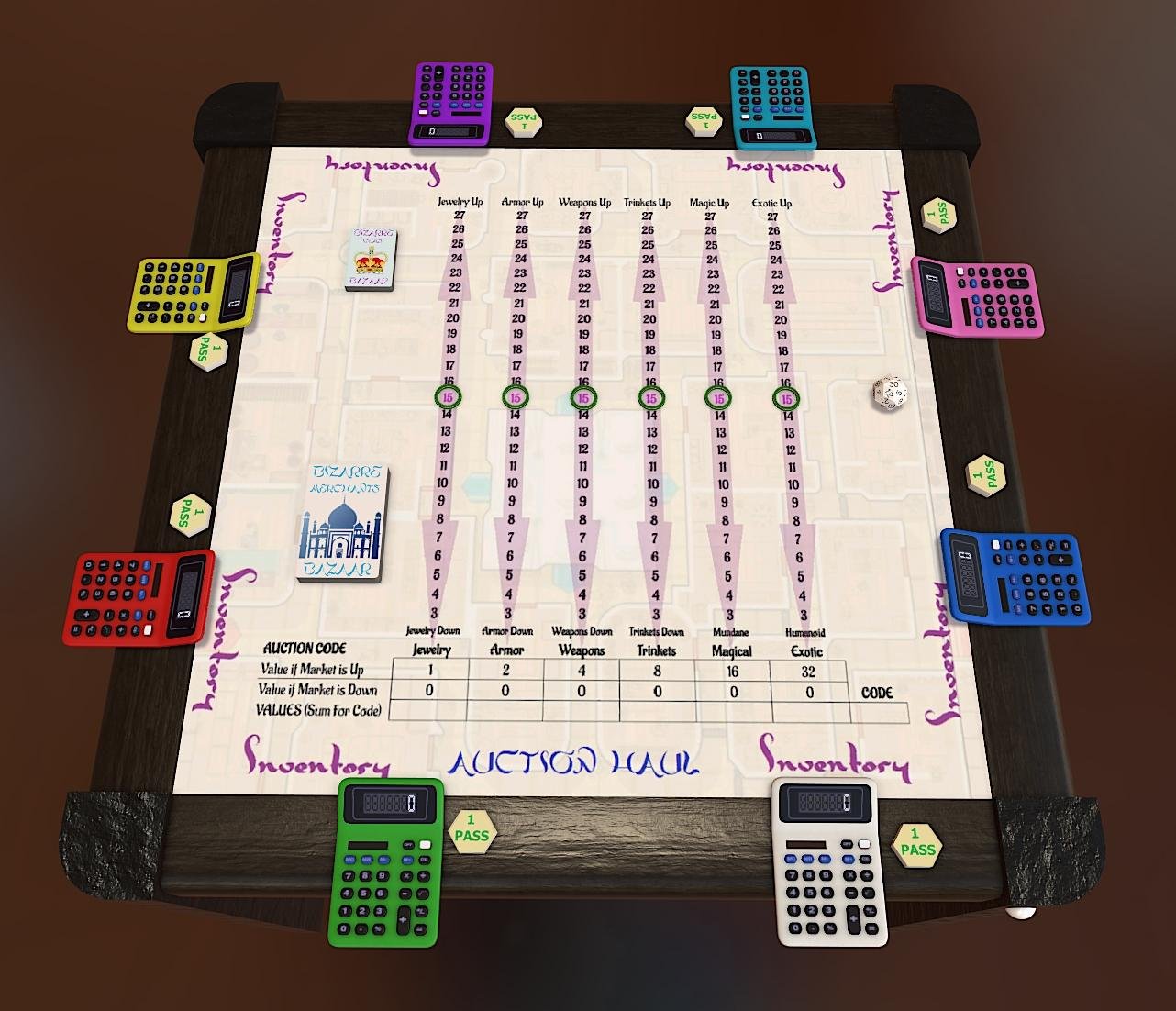 Each individual game has its own portfolio page and workshop page on Steam Tabletop Simulator.  You can read all about each game in detail on the portfolio pages:
Read more about: Auction Haul
Read more about: Bizarre Bazaar
You can play each game for free on Tabletop Simulator on the Steam Network.
Play on Tabletop Simulator for Free : Auction Haul
Play on Tabletop Simulator for Free : Bizarre Bazaar
Look for Auction Adventure on Kickstarter soon!