NERDS Dungeons & Dragons Adventure 7 – Adventure Together
The seventh, and final adventure in the NERDS Dungeons & Dragons campaign is Adventure Together. You can download the adventure using the link below.
NERDS Dungeons & Dragons Adventure 7 – Adventure Together
Read about & download previous adventures:
Adventure Together Background
You all have answered the summons of the Lorekeeper Society and are now underneath the Sweet Spot candy shop, in a small room where Mr. Honeycutt has his secret hideout. The delicious scents of fruit, vanilla, and chocolate mingle together with leather-bound books and cedarwood. You are all standing around a high table, lit by an oil lamp. The six Gems of Power are laid out on a velvet cloth, glittering in the lamplight. Mr. Honeycutt has a serious look on his face as he pulls out an ornately carved wood box, sets it on the table and says, "In this box is the Amulet of Harmony."
Amulet of Harmony
Wondrous Item, Legendary (Requires Attunement)
The amulet is a golden disk about 4 inches across. There are symbols etched into its surface and there are six bezels that hold the Gems of Power.
All 6 NERDS adventurers have advanced to level 3.  Their updated character sheets are below.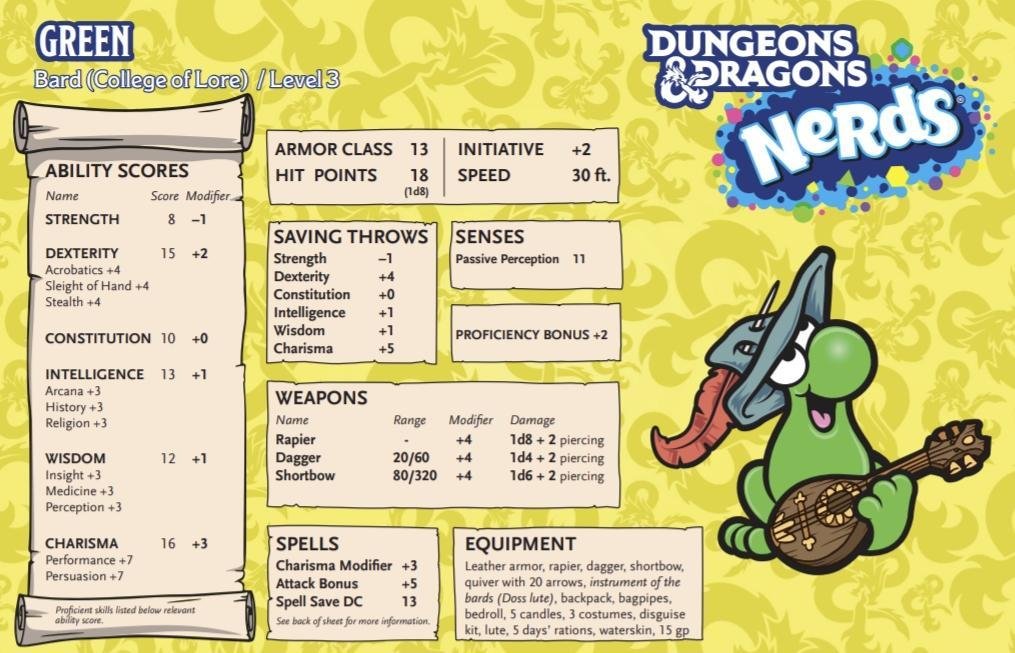 Green now plays Instrument of the Bards (lute) for entertainment, casting, and morale purposes.  No worries, Green still has the bagpipes!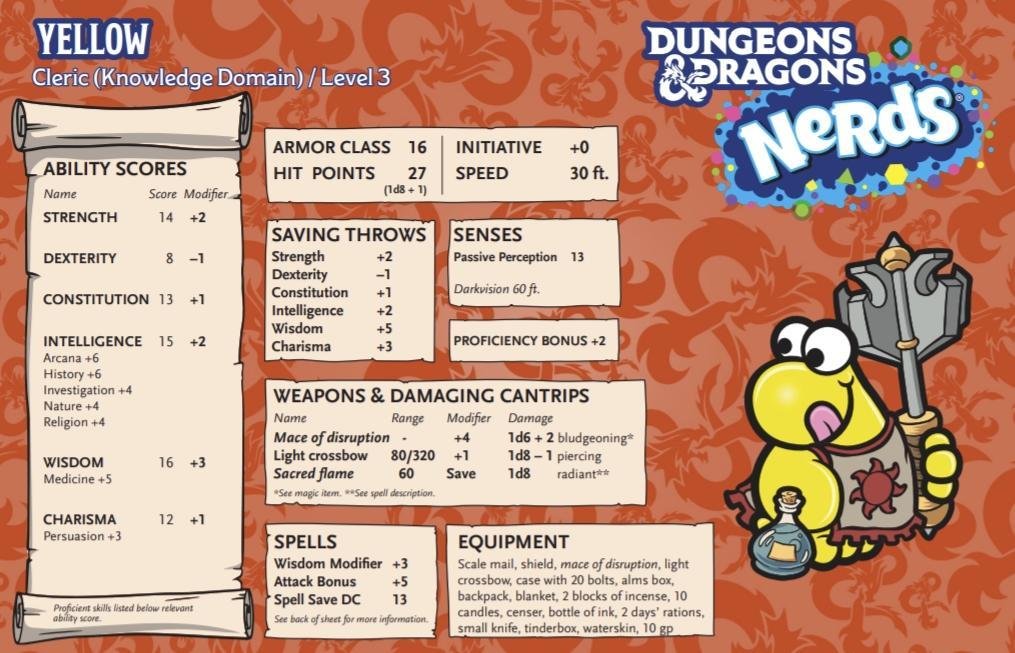 Yellow has upgraded to scale mail and is now armed with a Mace of Disruption and Sacred Flame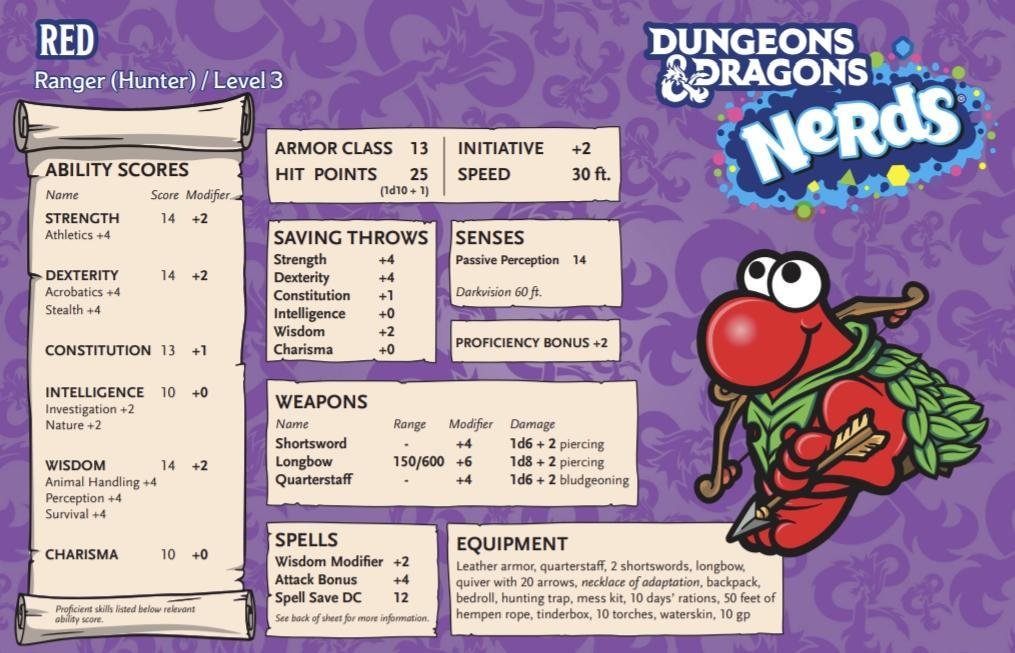 Red has added a Necklace of Adaptation to the toolbox.
Pink has "acquired" Gloves of Thievery somewhere along the way.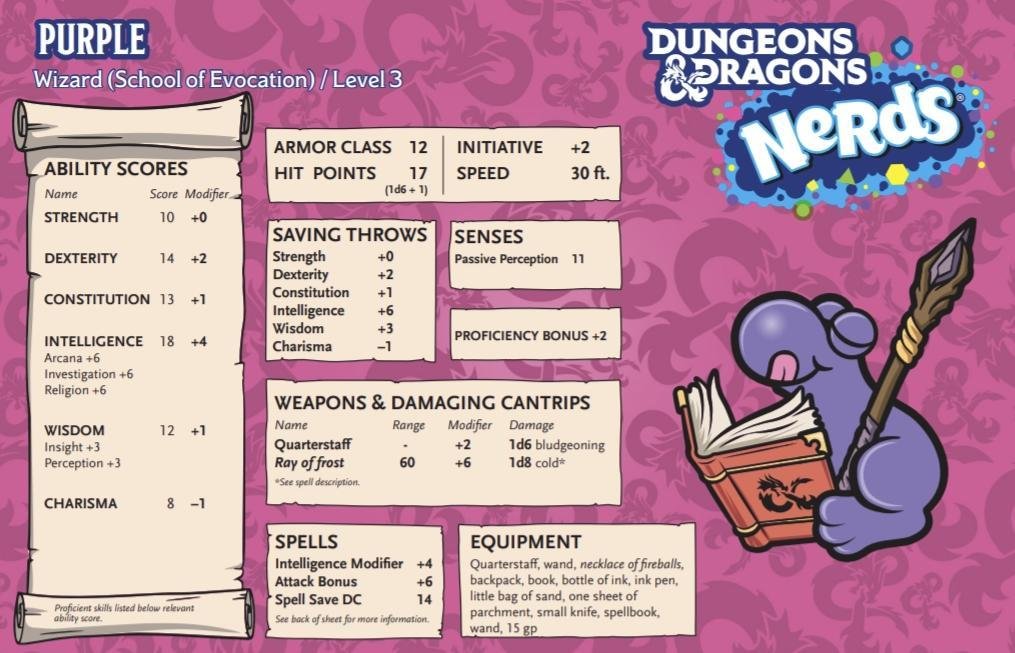 Purple has added a Necklace of Fireballs and Ray of Frost to the magical arsenal.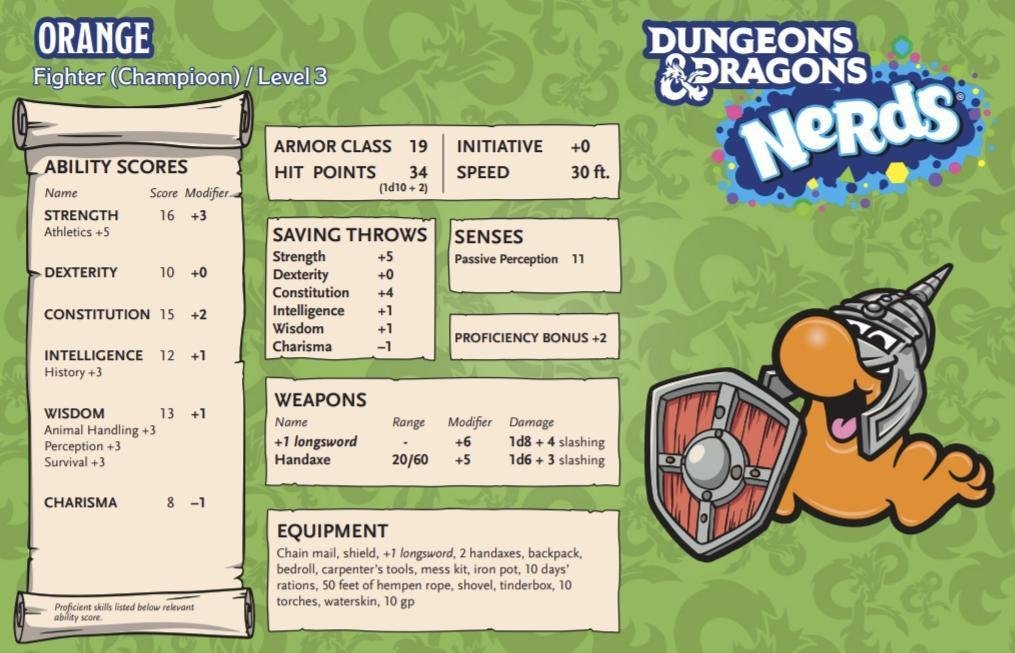 Orange is now equipped with chain mail, shield, and a +1 longsword.
At the end of Adventure 7, Harmony should be restored.  Each NERD adventurer has solo quested to prove they were a champion worthy of the group.   Together, the combined forces to restore harmony to the land ending what has to be the sweetest Dungeons & Dragons campaign of all time.
For full rules and to redeem your D&D Adventures visit Nerdscandy.com/dnd