Dungeons & Dragons Nerds Unite!
Dungeons & Dragons & NERDS Team Up For An Epic Adventure
Wizards of the Coast and Nestle have conjured up a fantastic spell that have summoned NERDS into the D&D universe.  Both of these cultural icons were born in the 1970s.  Now, 50 years later they are combining forces to take Dungeons & Dragons players and NERDS lovers on a campaign using D&D 5th edition rules.  NERDS is releasing a limited edition Dungeons & Dragons edition candy in boxes and packs starting in September and going through Dec 31, 2021.
The NERDS will soon enter a most epic pairing,
With Dungeons & Dragons—both fun and daring.
A magical merger of camps that reign clever,
We're better together, now better than ever!
Restoring Harmony:   The Candy Mountain Caper
Restoring Harmony, is a Dungeons & Dragons adventure series in collaboration with the tasty and colorful world of NERDS.
To run the adventure, you need the fifth edition Basic Rules for D&D.   All the magic items and monster stats you need are included at the end of each adventure.  NERDS & Dungeons & Dragons offer a quick reference guide which you can download:
NERDS – Dungeons & Dragons Quick Start Guide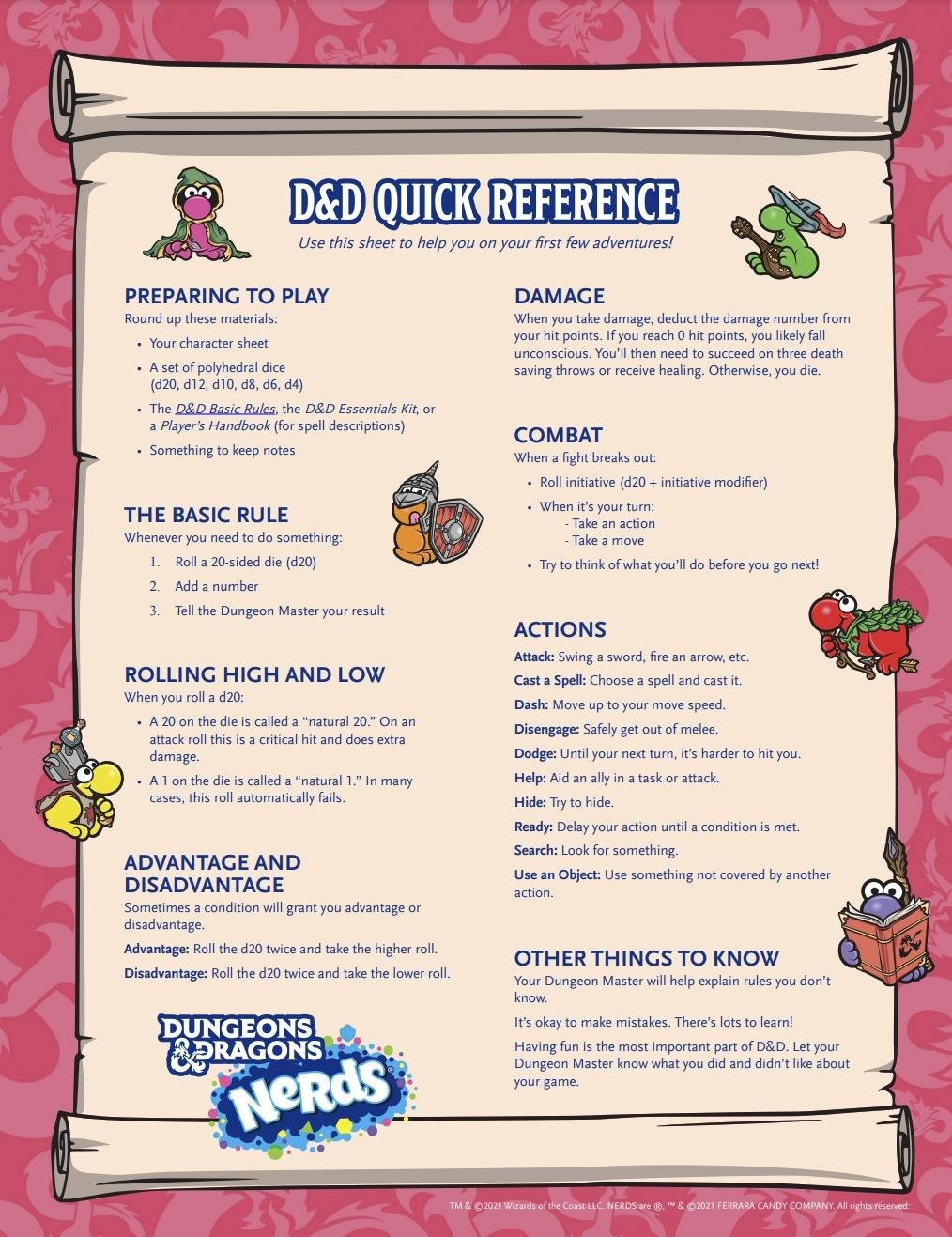 Restoring Harmony is  divided into six 1st level mini adventures for a solo player  Each mini adventure takes approximately 45 minutes to play.  The 7th adventure is for multiple players.  The final adventure takes approximately 60–90 minutes to play.
To get each adventure you need to upload a receipt from the purchase of a box of D&D NERDS.  You can upload one receipt per day, so it will take a week and 7 boxes of NERDS D & D candy to complete the campaign.
But you don't have to buy a box of D&D NERDS to get the first adventure because you can download it right here:
NERDS Dungeons & Dragons Adventure 1 – The Candy Mountain Caper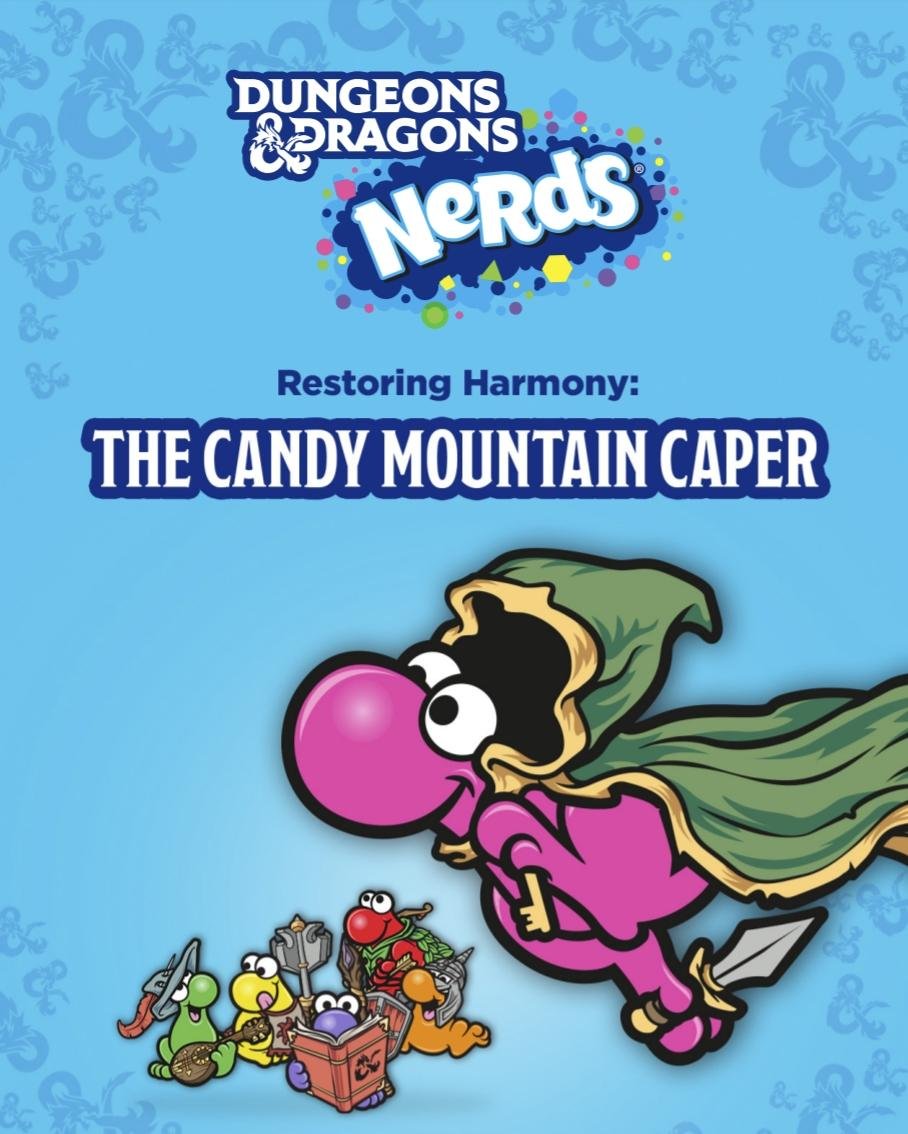 The Candy Mountain Caper Adventure introduces Pink, a level 1 rogue.  Equipped with leather armor, short sword, daggers, and a short bow with 20 arrows.  Pink is quick(Dexterity 16) and charismatic(Charisma 15), but weak physically(Strength 8).  Pink was an urchin who grew up on the city streets, and knows how to find quick paths others would miss. When not in combat, Pink and her companions can travel between any two locations in the city twice as fast as your speed would normally allow.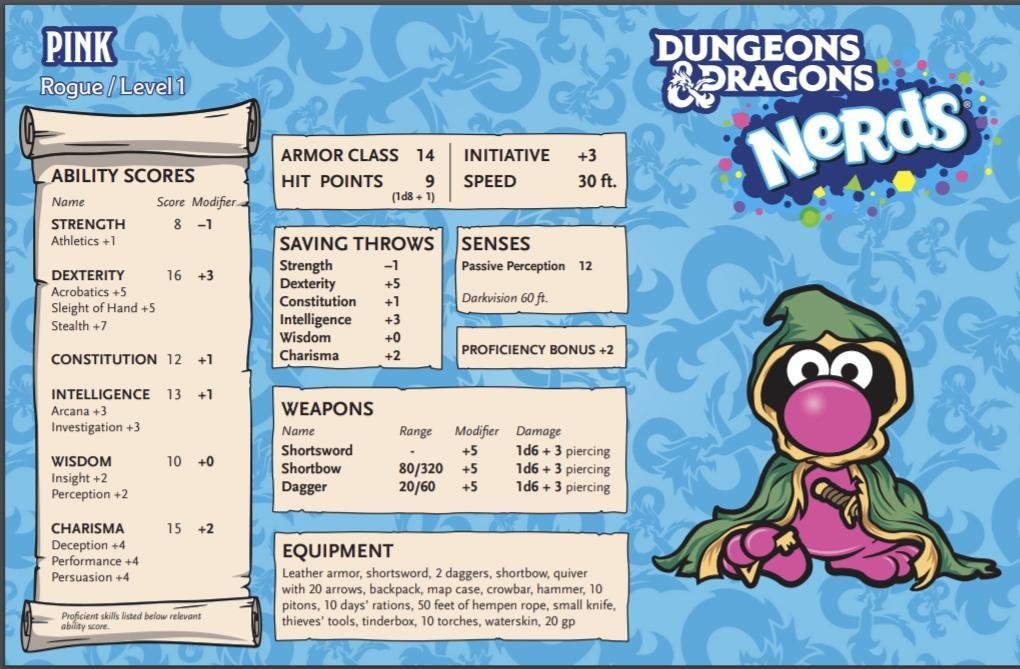 The Candy Mountain Caper starts with this background info:
One thing unites the city: its vibrant color. The legend of Harmony's founding tells of a magical spark that ignited thelands in spellbinding hues. Nobody knows the origin of the spark, but many have sought its source in the hopes of discovering the extent of its power.
Recently however, a strange phenomenon has shaken the citizens of Harmony. In the past few weeks, color outages have been reported throughout the city with very few clues as to what might be causing them.
This morning, you wake up to an unusually colorless day.
Worried murmurings can already be heard outside your room.
As you look around, you notice a scrap of paper has been slipped under your door.
I know you are a NERD with a particular set of skills. Please meet me in the central marketplace this morning. I will be wearing a suit and horn-rimmed spectacles.
—Mr. Honeycutt
The mini adventures can be played in any order, but the final adventure should be played last. Here is a list of all the adventures:
• Adventure 1 – The Candy Mountain Caper
• Adventure 2 – A Voice in the Wilderness
• Adventure 3 – A Sticky Situation
• Adventure 4 – Circus of Illusions
• Adventure 5 – The Lost Tomb
• Adventure 6 – A Web of Lies
• Adventure 7 – Adventure Together
For true D & D and NERDS lovers and collectors, there is a NERDS Dungeons & Dragons Promo box that has a d20 die, a full printed out version of Adventure 1 – The Candy Mountain Caper, maps, NPC cards, Character Sheets, and of course 1 box of NERDS Candy and 1 pack of NERDS Gummy Clusters D&D limited edition candy!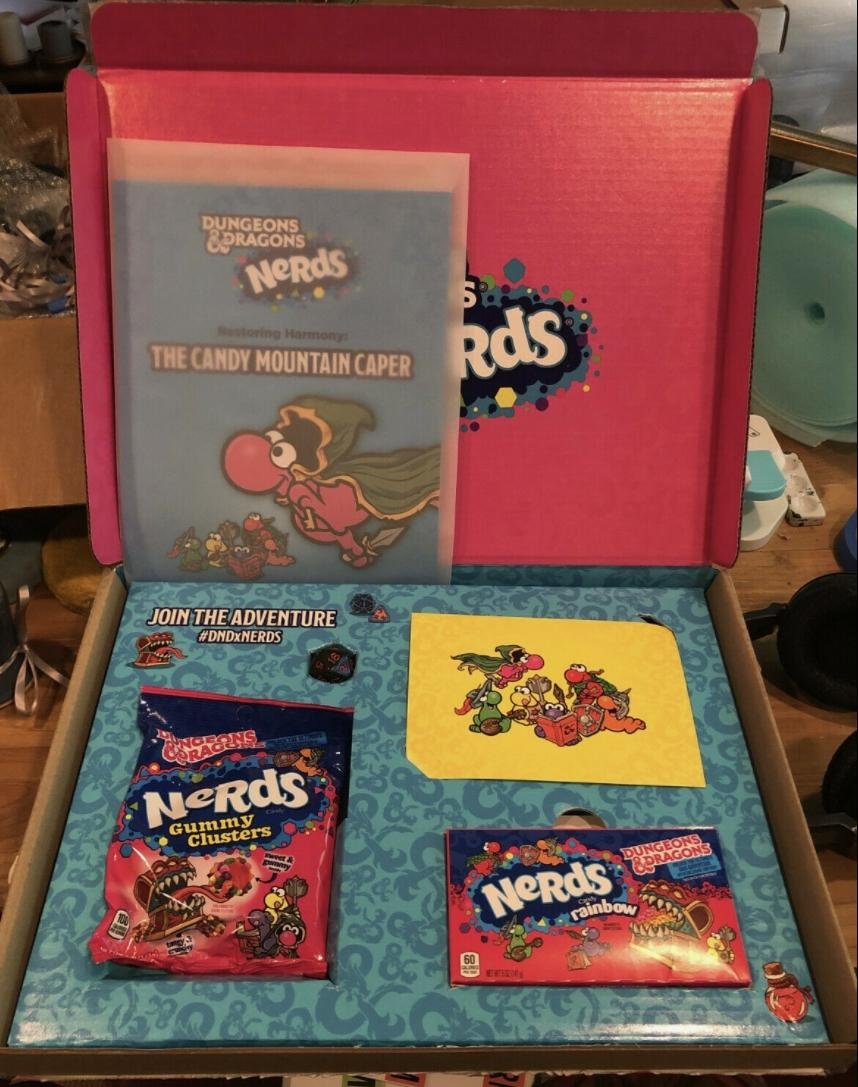 Look for this sweet partnership in stores starting in September! Each purchase of specially marked NERDS candy unlocks 1 of 7 custom D&D adventures.
For full rules and to redeem your D&D Adventures visit Nerdscandy.com/dnd